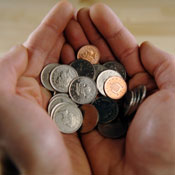 Stewardship Websites
UMC How We Serve
The stewardship website of the United Methodist Church has links to many resources for stewardship.
Stewardship in the UCC
The United Church of Christ's stewardship webpage includes monthly stewardship messages as well as other resources.
ELCA Stewardship
The Lutheran (ELCA) stewardship webpage includes numerous links and resources.
Dave Ramsey
Offers resources for church leaders as well as his personal stewardship program "Financial Peace University."
United Church of Canada Stewardship Toolkit
The website of the Philanthropy Unit of the United Church of Canada has numerous links to resources. (There is no apparent link to this from the main UC Canada website.)
Firstfruits Book
On this website, the Barnabas Foundation offers a selection of publications on stewardship to purchase, in addition to the book Firstfruits: A Stewardship Guide for Church Leaders.