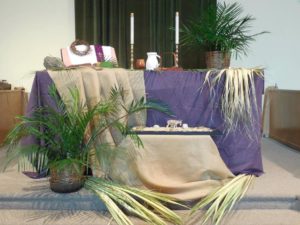 Good Friday Worship Websites
A Good Friday Service Celebrating the Way of the Cross
Focusing on Mark 14-15, the service begins with the Old Testament background of the tabernacle and temple and culminates in communion in the most holy presence of God. Christian Reformed Church.
A Liturgy for Good Friday 
Observing the second day of the Easter Triduum, (Maundy Thursday, Good Friday, and Holy Saturday). ELCA.
A Passion Narrative for Good Friday
A 4- part script for readers. Created by Marissa Burt, a member of Advent Anglican church in Seattle.
The Celebration of Christ's Passion 
This service, normally celebrated in the afternoon, is a continuation of the Maundy Thursday liturgy. From Rev. Bosco Peters, New Zealand. Anglican.
A Service for Good Friday 
From the UMC, a downloadable Word document for Good Friday worship.
A Tenebrae Service for Maundy Thursday or Good Friday 
Titled: "Jesus Walked this Lonesome Valley," this printable or downloadable reading utilizes up to fifteen people. UMC.
A Holy Week Service 
This highly adaptable service is "an attempt to recall through scripture, music, sacrament, prayer and candles the entire week's events." Downloadable or printable, it may be used for a midweek, Maundy Thursday or Good Friday service. UMC.
A Good Friday Liturgy for Readers & Singers 
From the UMC, a liturgy using readings and choral responses.  For print or download.
A 21st Century Worship Resource for Good Friday 
The hymn "Were You There?" pairs with readings based on John 19 in this spoken/sung liturgy from the UMC. For print or download.
Last Word: Service & Prayers for Good Friday
Conventional and dramatic selections are included in this worship service, along with suggestions for hymns. Written and arranged by the Rev. Marilyn Kennedy Levine, a UCC minister.
A Good Friday Noon Prayer Service 
Planned as an approximately half-hour-long prayer service for noontime, to accommodate people with tight schedules.  Written by the Rev. Mary Nelson Abbott, a UCC minister.
Sights, Sounds & Smells of Good Friday 
A Good Friday service from the North Tasmanian Lutheran parish.
A Tenebrae Service for Good Friday 
Prepared by a Christian blogger with no specified affiliation.
A Funeral for Jesus 
A Mennonite minister provides a funeral-like Good Friday service designed to hammer home to us in a "very deep, visceral way" that Jesus really died.
Lent and Easter Websites for Children's Ministry
The Building Faith website has many articles and resources relating to Lent and Easter. You might want to share the Home Practices section of their website with your families and encourage them to adopt a special spiritual practice for the season of Lent; there are also suggestions for seasonal practices for Maundy Thursday and Easter in the Home Practices section.
The Flame: Creative Children's Ministry website includes Family Lent Ideas, Holy Week Activities, and suggestions for a Hands-On Easter Story with creative prayer stations. There is also a section on Prayer Stations invented by children.
The Messy Church website has activity ideas for Lent and Easter which can be used for intergenerational gatherings or in Sunday school.
The Ministry Matters website includes a list of Quick Links for Lent with Children.
An article on the website of the Presbyterian Mission Agency is titled "Talking with Children about Lent and Easter" and includes a list of resources for further ideas and insight.
The Worshiping with Children website includes resources for observing Lent and Easter in the current lectionary year including an article titled "What Do You See in the Sanctuary During Lent?" and another called "Three Reasons to Include Children on Ash Wednesday."
Christian Seder Websites
Domestic Church
This site contains preparations for Passover and the seder, a menu and  a Messianic Passover Haggadah.
Stations of the Cross 
Experiential Stations of the Cross Kit Includes a supply list, a pdf of all the signage you will need, photos of how the 15 stations can be set up and a link to photos of them. Protestant. Possibly free.
Projectable Stations of the Cross Downloadable mixed-media presentation for printing or projecting, from "Ministry Matters." Interdenominational. Free.
Creative Stations of the Cross How one UMC church created their experience for use throughout Holy Week. Provides tips for organizing one for your church.
Stations of the Cross for Protestant Worship Offers an overview, with explanations of the practice and its relevance to Protestants, plus a sample worship service.
Video: Rethinking the Stations of the Cross A program produced by Brentwood UMC, located near Nashville, TN.
Worship Service: Stations of the Cross A program from an Episcopal service observing the Stations on Good Friday.
Scriptural Stations of the Cross An alternative to the traditional stations, and a way of reflecting more deeply on the Scriptural accounts of Christ's passion. Catholic.
Resources for Holy Week This blog provides links to many resources for Holy Week, including Stations of the Cross. Offers both Catholic and Protestant perspectives.
Guidebook to Stations of the Cross All Saints Confirmation Camp's guide to their walk. Includes the scripture reading, a reflection and suggested action.
Devotional Guide A downloadable guide for Lent and Holy Week. Evangelical. Free.
Stations of the Cross for Children Websites
Stations 4 Kids
Geared for children, the site has a brief intro explaining the Stations followed by links to each one.
Domestic-Church
Families can use this clear and simple guide to the Stations. Contains explanations and prayers designed for children.
Loyola Press
Contains printer-friendly, downloadable PDF and link for online
Stations of the Cross Websites
 Good Friday Stations Prayer stations are used in an All Age Service on Good Friday. Each prayer station contains a scene, a story card, a craft or play activity and a prayer activity. Anglican.
The Way to the Cross: Good Friday Prayer Stations Each station looks at the Good Friday story from the point of view of someone who participated in it. There is a picture of the individual, a symbolic object, a story card, a Bible reading card or cards, and something to collect to put into a story bag to take home. Anglican.
Stations of the Cross for Children Offers downloadable PDF file and link to online presentation. Catholic.
Printable Stations of the Cross Offers a large selection of printable resources for teaching Catholic children.
Stations of the Cross Prayer Service Prayer service for children from Catholic District School Board.
Stations of the Cross for Kids Online program for walking the Stations. Catholic.
Stations of the Cross Simply explained and suitable for families' use at home. Catholic.
Stations of the Cross for Youth Websites
Stations of the Cross for Youth This Catholic youth ministers' site offers tips and resources for leading the Stations.
High School Presentation of The Way of the Cross An adaptation designed to involve students in the planning, preparation and presentation of the Stations of the Cross, from designing the PowerPoint to narrating the prayers. Catholic.
Writing Your Own Living Stations of the Cross Script Catholic Youth Minister and blogger shares how-to's and tips to create a youth-friendly experience.
The Stations of the Cross for Teens From the Roman Catholic movement "Life Teen," this contains simple prayers at each station geared to teenagers.
The Stations of the Cross for Young People "The stations offered here are in three parts and may be more suited to students in the senior cycle." From Le Chéile, a Catholic schools trust in Ireland.
Stations of the Cross for a Youth Group Offers a multi-sensory experience for participants. Protestant.
Journey to the Cross An in-depth how-to for creating a Stations of the Cross experience for youth. Multi-denominational.