Intergenerational Ministry
Our consultants work hard to collect or write the information you find on this page.  Please support their work by making a donation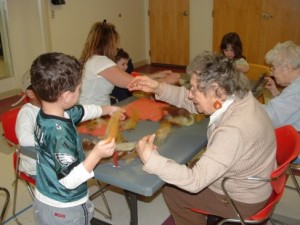 Intergenerational Ministry Websites
The Barnabus in Churches website has a page with ideas for all-age worship services.
The Building Faith website has an Intergenerational Ministry page with articles by various authors on intergenerational ministry.
The Christian Reformed Church's website has an Intergenerational Tool Kit with links to videos, foundational books, webinars, articles, assessment tools, practical ideas, and websites.
Faith Inkubators offers resources for Family Ministry and Cross+Gen (intergenerational) Ministry including BibleSong for intergenerational worship and resources for seasonal intergenerational programs and worship.
GenOn Ministries offers information about intergenerational ministry, training and visioning tools, and sells resources for Logos, a weekly intergenerational program.
The Intergenerational section of the Reimagine Faith Formation website has articles on principles and practice, programming tools, case studies and interviews, suggested books to read, and research articles.
Seasons of the Spirit is a lectionary based Sunday school curriculum which also offers SeasonsFusion: intergenerational worship and Christian education materials for the entire congregation.
The Still Waters website offers free resources for intergenerational worship.
Vibrant Faith includes blogs, coaching and training, as well as resources to purchase.
Family Ministry Websites
Baylor University Center for Family and Community Ministries which seeks to provide research, continuing education, and resource development to support and enhance the work of congregations and denominational agencies with families and communities.
Bless Each One offers ideas for Faith at Home kits as well as other ideas for ministry with children, youth, and adult.
Website of the Faith at Home movement led by Rev. Mark Holmen and Dave Teixeira, authors of numerous Family Ministry materials. Sponsored by Gospel Light Publishing and includes resources for sale, PowerPoint presentations, forums, etc.
Faith in Homes offers both families and church leaders a variety of easy-to-use ideas, resources, events and other websites to help you live out faith together.
The International Anglican Family Network (IAFN) is one of the Networks of the worldwide Anglican Communion. It is a forum for the exchange of information about the challenges facing families in different countries and cultures and the practical work being undertaken by churches and individual Christians; it publishes three newsletters per year.
Messy Church is a way of being church for families involving fun, for all churches across the world, and about being Christ-centered, for all ages, based on creativity, hospitality and celebration.
The Parenting for Peace and Justice Network is an interfaith, interracial, transnational association of families of all descriptions who seek "Shalom" - well-being, wholeness, peace, justice - in their own living situations and in the broader community. They sponsor workshops and provide resources.
The United Methodist Church offers articles, resources, and program suggestions for family ministry.
The United Church of Christ website offers information and articles about Faith Formation for Families and Children and links to Children's Sabbath resources.
Vibrant Faith Ministries, formally called the Youth and Family Institute, came out of the ELCA and their mission is to equip congregations, families and individuals to pass on a vibrant faith in Jesus Christ. They offer training, coaching, workshops and resources.
Intergenerational Sunday School from the Northwest Synod of Wisconsin Resource Center
AWE-Some Wednesdays, Contributed by Martin's Lutheran Church, Casselton
Adopt a Grandparent, Contributed by First Lutheran Church, Barron, WI
Cross-Generational Quilting, Contributed by St. John's Lutheran Church, Spring Valley, WI
Beating the Post-Christmas, Mid-Winter Blues, Contributed by Trinity Lutheran Church, Spooner, WI