Environmental Stewardship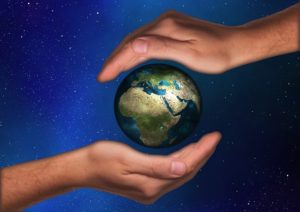 Earth Day Websites
www.eco-justice.org/
National Council of Churches for Christ eco-justice programs including worship and other resources for Earth Day each year.
www.seasonofcreation.com
This site provides liturgies and other worship resources for the four Sundays in September that make up the "Season of Creation."
www.pcusa.org/environment/resources.htm
Environmental Ministries page of the Presbyterian Church USA. Includes resources and links.
www.earthministry.org
Interfaith organization committed to engaging the Christian community in environmental stewardship. Offers free resources including DVDs and study guides.
Worship & Preaching Aids
EcoPreacher is a website that features sermons, essays, movie and book reviews, creative writing and ecotheological reflections. It is run by The Rev. Dr. Leah Schade, PhD, Author of Creation-Crisis Preaching: Ecology, Theology and the Pulpit  and Assistant Professor of Preaching and Worship for the Lexington Theological Seminary.
Green Ministry Websites
Green Home Resource Guide – Having an energy-efficient (or "green") home is good for the environment and, in the long run, good for your budget. ReviewLab put together page of resource to help you start reaping the benefits of going green. The more than 50 resources including general information about what a green home is, resources for green building, energy and water conservation resources, and many more.
The Millennium Development Goals (MDGs) are the world's time-bound and quantified targets for addressing extreme poverty in its many dimensions-income poverty, hunger, disease, lack of adequate shelter, and exclusion-while promoting gender equality, education, and environmental sustainability.
GreenFaith offers a National Fellowship Program, a comprehensive education and training program to empower lay and ordained leaders for religious-environmental leadership:  They have a wealth of resources at their site, including A list of the first 6 steps your congregation should take towards greening.
Building in Good Faith is a website dedicated to produce green building and maintenance guidelines. Check out their resources located at: http://www.buildingingoodfaith.org/
Build It Green is a California-based group dedicated to produce energy efficient building practices. Visit: http://www.builditgreen.org/
Lutheran Earthkeeping Network of the Synods is affiliated with the Evangelical Lutheran Church in America: http://www.webofcreation.org/LENS/
National Council of Churches Creation-Justice Program:
New York Interfaith Power & Light has faith based materials to use throughout the year.
Action Ideas
The Find a Better Bank Toolkit
When members of Northshore UCC discovered that their church's bank helped finance the Dakota Access Pipeline, they decided it was time to move the church's money elsewhere. Northshore UCC created a step-by-step guide for other churches who want to move their money.